SKINNER FARM VILLAGE
Welcome to Our Village
Skinner Farm Village is a collection of original log cabins, buildings, round barn and artifacts which represent over 150 years of local Indiana history. The site has been in the Skinner family for this period of time, and has been assembled through over 30 years of collecting, preservation and research. Opened as a museum over 27 years ago, the village is now on the web, and expanding.
What We Do Here
Collection, restoration, preservation and display of the collections and now, educational programs for all ages will be the new features of the village, learn to do traditional beadwork, discover the steps involved in weaving, blacksmithing and daily farm life of our ancestors.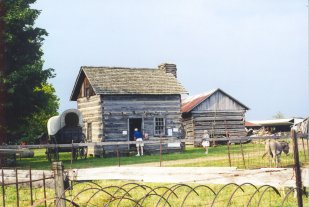 Always Looking For New Cabins, etc!
Any information on cabins, log barns, and other buildings needing to be moved, or sponsorship to move a building will be welcomed.
Preservation Sponsors
As it is essential to make items presentable to the public, and to preserve them for future generations, we are organizing a system to accept your donations and assistance online, to continue and expand the efforts of the museum to fill the expanding needs of the historical audience. We are, at this time, accepting either open-end donations, and specific project donations, which will be detailed each month in the website.
Save the future, preserve the past!